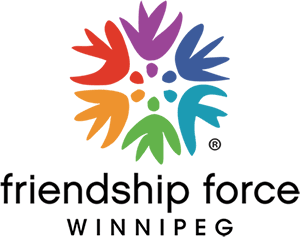 Official Name of the club is The Friendship Force of Winnipeg which was founded on September 12, 2001 and currently has 86 members.
Information about Our Club
Since the Club's inception in 2001, we have hosted members from clubs in New Zealand, England, USA, Mexico, Brazil, Costa Rica, Peru, Japan, Russia, Australia, Northern Ireland, and Romania. We have approximately 86 members mostly residing in the City of Winnipeg. Normally we have two Inbound Exchanges annually preferably in May/June and in September and travel Outbound for two weeks. Members are very active in our Exchanges and are eager to provide a memorable experience for ambassadors. Club Website: www.friendshipforcewinnipeg.org.
About Our Exchanges
Our Inbound Exchanges begin with a Welcome Pot-Luck Dinner where our guests are normally greeted by a member of the Royal Canadian Mounted Police and provided with entertainment of a local cultural nature. During the week ambassadors and home hosts will be invited to the home of another member for dinner one evening and there will be a Farewell Dinner with entertainment to conclude the visit.
Our ambassadors are accompanied to places of interest in Winnipeg such as:
The Manitoba Museum - The Province's largest heritage centre, it is unique in North America for its combined human and natural themes.
The Forks –Located at the confluence of the Red and the Assiniboine Rivers, The Forks is an historic site and green space in Downtown Winnipeg which has been a meeting place of people for thousands of years and provides a host of attractions for both local citizens and travellers.
The Canadian Museum for Human Rights – Recently completed, it is the only national museum located outside Ottawa, Ontario and remarkable for its indigenous–themed architecture and thought- provoking exhibits.
The Manitoba Legislative Building – An architectural and historical masterpiece, it is the centre of government for the Province of Manitoba.
The St. Boniface Cathedral - An important architectural and cultural feature of St. Boniface and the Franco-Manitoban community.
Journey to Churchill – A major new feature of the Assiniboine Park Zoo, it showcases and helps conserve polar bears, muskoxen and other Arctic animals in a very natural setting. It is the most comprehensive and largest northern species exhibit of its kind in the world.
Most exchanges also include visits to various places in rural Manitoba to experience culture, history and geography beyond the city which may include a farm, cottage country, a heritage village, an historic fur trading post, the town of Gimli on the shore of Lake Winnipeg which is the 10th largest lake in the world, and the Canadian Fossil Discovery Centre in Morden which has on display the world's biggest marine reptile fossils.
.
About the Region
Winnipeg lies at the geographic center of North America and is located at the junction of the Red and Assiniboine Rivers.  It is the capital city of Manitoba and is the 8th largest city of Canada.  The population of Metropolitan Winnipeg is 730,000 and of the Province of Manitoba is 1.3 million. Winnipeg is a most culturally diverse city with some 100 languages represented within our region, including Canada's largest Francophone population outside Quebec.  In an average year, Winnipeg enjoys 2727 hours of clear skies and sunshine, the highest of all Canadian cities


Closest Major Airport
James Richardson International Airport.  Cost of Transportation between Airport and Host Community: Ambassadors are welcomed at the airport by our club members and transported to their Host Member's home at no cost to the ambassador.
Maximum number of Ambassadors Our Club Can Host:  25